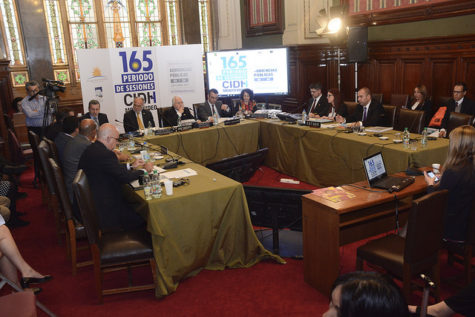 This month, the International Criminal Court (ICC), the Inter-American Commission on Human Rights (IACHR), and United Nations special procedures mandate holders all took steps to expose Venezuelan President Nicolas Maduro's regime's responsibility for human rights violations and international crimes committed against the Venezuelan population. On February 8, the prosecutor of the ICC announced that she opened a preliminary examination into the situation in Venezuela. The preliminary examination will study, since April 2017, the use of excessive force by State security forces to disperse and end demonstrations and the arrest and detention of thousands of perceived members of the opposition, some of whom have allegedly been subjected to abuse and ill-treatment during their detention. [ICC Press Release] On February 12, the IACHR published and presented to the Organization of American States its report on the human rights situation in Venezuela in 2016 and 2017, noting the deterioration of human rights in Venezuela, and in particular the political, economic, and social crisis in the country. [IACHR Press Release] A group of independent experts at the UN consisting of the Special Rapporteur on the right to adequate housing as a component of the right to an adequate standard of living, and on the right to non-discrimination in this context; Special Rapporteur on the right to food; Special Rapporteur on the right of everyone to the enjoyment of the highest attainable standard of physical and mental health; and the Special Rapporteur on extreme poverty and human rights released a statement on February 9 that asserts that the degradation of human rights in Venezuela has led to the starvation, deprivation of necessary medicine, lack of necessary hygiene products, and deterioration of living conditions for a large number of Venezuelans. [OHCHR Press Release: Experts]
IACHR Report
The IACHR issued its report on the state of human rights in Venezuela to assess the effects of deterioration of the democratic institutions in the country, violence, and repression of political rights; freedom of expression; freedom of assembly; and economic, social, cultural, and environmental rights. See IACHR, Democratic Institutions, the Rule of Law and Human Rights in Venezuela Country Report (2017), para. 2.
The IACHR has observed a dismantling of Venezuelan democratic institutions since 2015, worsening significantly in 2017. See id. at paras. 43-44. In 2017, the Venezuelan Supreme Court of Justice (TSJ) passed judgments seriously interfering with the separation of powers in government by allowing the judiciary to create laws; allowing the judiciary to remove parliamentary immunity of democratically elected deputies in the National Assembly, as well as reduce the powers of the National Assembly; and allowing the executive to create a new legislative assembly, the Constituent National Assembly, which the Commission and other oversight bodies have found undermined several democratic principles such as universal suffrage. See id. at paras. 43-44, 75, 98-103, 119-20.
Developments in the country, the IACHR noted, have also negatively impacted Venezuelans' right to vote. The National Electoral Council postponed both regional and municipal elections; restricted the participation of opposition parties in elections in seven states; relocated 201 voting centers days before regional elections; blocked replacement nominations; and failed to accredit electoral observation organizations. See id. at paras. 153, 156-157.
The IACHR notes with concern that the State silences Venezuelans who demonstrate against the State or express opinions critical of the State. These actions have resulted in harassment, persecution in the media, and disqualification from political activities; arbitrary arrests of opposition party members; dismissal of mayors and governors who espouse opposition views; threats against National Assembly deputies and opposition parties; and use of force against demonstrators. See id. at paras. 163-167, 173. The IACHR further observes that the State stigmatized protesters, branding them terrorists and criminals, and used intimidating language to deter individuals from protests. See id. at paras. 232-233.
Venezuela continues, the Commission reports, to use excessive force against and arbitrarily detain protesters. Due in part to the State's actions, between April 1 and July 31, 2017, 133 persons died; 4,000 were injured; and over 5,000 were arbitrarily detained, some of whom faced acts of torture and mistreatment or were unjustly referred to military courts. See id. at paras. 193, 210-214. Between January 1, 2014 and October 31, 2017, at least 11,993 individuals were arbitrarily detained in Venezuela. See id. at para. 237.
The IACHR notes that Venezuela is also suffering an economic and social crisis, making it difficult for those living in Venezuela to meet their basic needs for food, housing, health care, and education. See id. at para. 45. While the IACHR commends the State for allocating over 70 percent of its budget to social spending, the IACHR notes that the spending has not resulted in significant improvements, due to the State conditioning access to certain food and health care on support for the ruling party, as well as rampant corruption in distributing aid. See id. at paras. 410-411. The IACHR notes that shortages of food and medical supplies have left approximately nine of 10 Venezuelan homes facing food insecurity, and half of operating rooms and 80 percent of diagnostic services inactive. See id. at paras. 421-422, 434. Further, as of 2016, over 81 percent of households in Venezuela live in poverty, and over 51 percent of those live in extreme poverty. See id. at paras. 416-417.
The IACHR also expressed concern over the escalating violence in Venezuela, including an increase in extrajudicial killings. See id. at paras. 335-336. The IACHR notes that the State needs to take steps to reduce crime and violence, in particular against those who are most vulnerable to crime and violence, including children, women, the elderly, and victims of trafficking. See id. at paras. 337-338, 341-343, 346-347. The IACHR notes that the State has failed to adequately address concerns of citizen safety, and instead chooses to militarize citizen security, involve civilians in security tasks, and work with pro-government armed groups called "colectivos." See id. at paras. 349, 352, 354, 358-359. The IACHR is concerned that the ongoing "state of exception and economic emergency" grant the executive undue discretionary powers. See id. at paras. 383-385.
The IACHR recommends that Venezuela restore a constitutional order including separation of powers, end harassment of judges and opposition members, guarantee the rights to freedom of expression and freedom of assembly, ensure the full exercise of voting rights, reduce the use of soldiers for civilian security, set up measures to reduce and mitigate poverty and extreme poverty, adopt measures to guarantee the right to food, and take measures to ensure the right to health, among other recommendations. See id. at para. 477.
UN Experts' Statements
The UN Special Rapporteurs, who recently collectively made a statement calling on Venezuela to take urgent action, note with concern that millions in Venezuela are suffering from a lack of food, essential medicines, and hygiene goods, with many suffering from malnutrition. [OHCHR Press Release: Experts] Similar to the IACHR, the Special Rapporteurs note that health centers have serious shortages of medicines, basic equipment, and medical supplies. [OHCHR Press Release: Experts] Food shortages, they further note, have led to increased costs, such that a family needs to earn 63 times the minimum wage to afford basic food. [OHCHR Press Release: Experts] Forced evictions have contributed to an increasingly destitute population, and the Special Rapporteur on the right to adequate housing notes that due process has been abandoned in many of these evictions. [OHCHR Press Release: Experts]
Prior to this most recent message of concern from these independent experts on Venezuela, the Independent Expert on the promotion of a democratic and equitable international order visited Venezuela in 2017 on his first country since he took on his mandate in 2012. [OHCHR Press Release: Ecuador and Venezuela] The Independent Expert on the promotion of a democratic and equitable international order stopped short of calling the situation in Venezuela a "humanitarian crisis." [OHCHR Press Release: End Mission] Some members of civil society have called his visit "fake." [UN Watch; Impunity Watch] The Independent Expert recommended that Venezuela exercise flexibility with its monetary policies; build technical capacity in public administration; and regularly publish data on monetary policies, epidemiology, inflation, and the budget. [OHCHR Press Release: Ecuador and Venezuela]
The Situation in Venezuela
Venezuela's human rights situation has rapidly deteriorated in the past two years under the rule of President Maduro. International human rights experts have been concerned about Venezuela's suppression of protests since at least 2014. [IJRC: Protesters] Emergency rule was implemented in Venezuela in 2016, due to protests on inflation and shortages of food and medicine. [IJRC: Food] In early 2017, Venezuela's Supreme Court consolidated its own power by granting itself the ability to write laws. [IJRC: Court] Discrepancies with Maduro's re-election in 2016, including the movement of voting stations immediately before the election, led to further protests. [IJRC: Election] The Organization of American States held sessions beginning in September 2017 to determine whether it should refer the case to the ICC. [IJRC: OAS]
Additional Information
For more information about the International Criminal Court; international criminal law; the Inter-American Commission; UN special procedures; or the ongoing situation in Venezuela, visit IJRC's Online Resource Hub. To stay up-to-date on international human rights law news, visit IJRC's News Room or subscribe to the IJRC Daily.