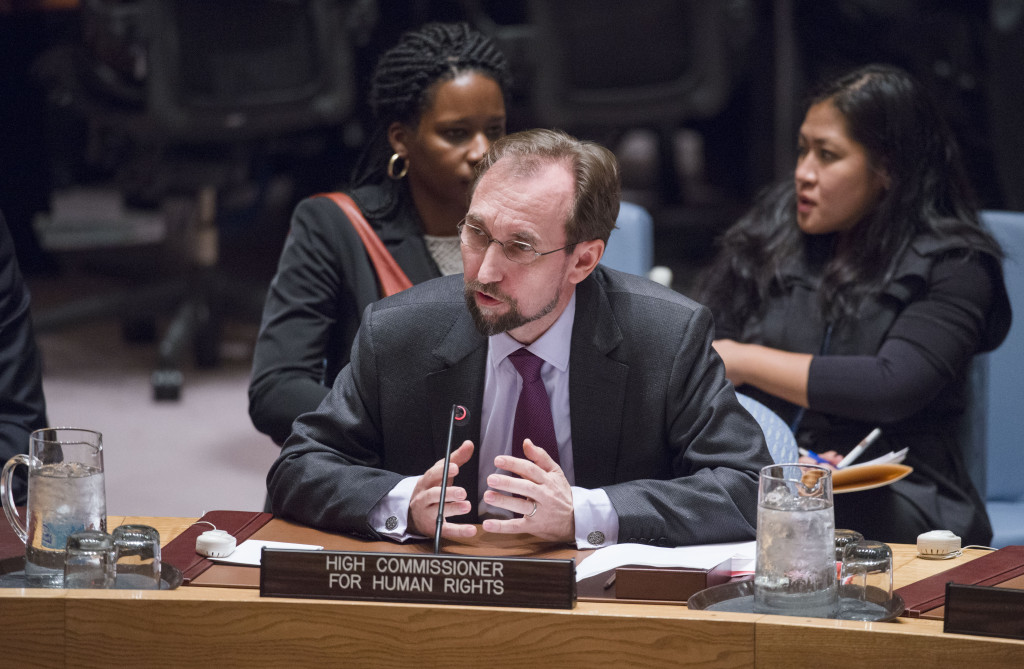 Human rights monitors have expressed alarm at China's ongoing crackdown on those critical of the government. The United Nations High Commissioner for Human Rights, Zeid Ra'ad Al Hussein, recently drew attention to the Chinese government's continued oppression of human rights defenders and government critics, specifically referring to a wave of arrests and harassment of civil society actors that began after the implementation of a controversial National Security Law last July. [OHCHR Press Release: China 2016; OHCHR Press Release: China Security Law 2015] Some 250 human rights lawyers, legal assistants, and activists have been arrested in the ensuing eight months, and an additional 15 human rights lawyers were arrested last month, a majority of whom face charges of subversion of state power and could face between 15 years to life in prison. Among those arrested are some of China's most prominent human rights lawyers, including Li Heping and Wang Yu, both known for defending activists and political dissidents. [Guardian; Reuters] Mr. Zeid echoed human rights organizations in calling on China to release those lawyers who were arrested for performing their professional duties. [OHCHR Press Release: China 2016; Amnesty: Activists; Human Rights Watch]
The High Commissioner also stressed the crucial role of civil society and public participation in ensuring national security and the rule of law. The Office of the High Commissioner for Human Rights has called for the Chinese government to ensure that its national security efforts do not oppress the rights of public interest workers to exercise their freedoms of expression, assembly, and association and has, therefore, criticized China's ongoing treatment of human rights defenders as threats to the country's peace and security. The oppression in China is part of an increasing global trend to use national security measures to dilute the power and freedom of human rights workers. Accordingly, Mr. Zeid urged governments to recognize and respect the importance of human rights and public participation in ensuring national security and upholding the rule of law. [OHCHR Press Release: China 2016]
Criticisms of China's National Security Law
The National Security Law has been widely criticized for its overly broad and vague definition of national security, which enables the government to interpret the law in such a way as to punish and monitor human rights activists, government critics, and other opposition voices. [Amnesty: National Security Law] Critics claim that the current administration's efforts to address national security through the eradication of corruption, maintenance of economic growth, and promotion of the rule of law in China come largely at the expense of peaceful dissent, freedoms of expression and religion, and the rule of law. [Human Rights Watch]
The High Commissioner for Human Rights himself has in the past offered criticisms of China's National Security Law and the State's oppression of human rights defenders ostensibly justified under the law. Citing unofficial translations of the National Security Law, Mr. Zeid describes it as defining national security as "the condition in which the country's government, sovereignty, unification, territorial integrity, well-being of its people, sustainable development of its economy and society and other major interests are relatively safe and not subject to internal and external threats." Mr. Zeid went on to state that the law's definition of national security is too broad in scope to protect against arbitrary or discriminatory enforcement of the law. [OHCHR Press Release: China Security Law 2015]
Security threats is another concept Mr. Zeid identified as broadly defined under the law, prompting him to warn that it allows for overly broad discretion and manipulation of the law. The law prohibits individuals from acting to endanger national security and from assisting people or organizations who are endangering national security, and under the law, citizens are encouraged to guard against and report on security threats to the authorities. However, the law fails to outline what conduct constitutes a national security threat. The High Commissioner warned that such a broad outlook offered potential for abuse and stated that the National Security Law failed to identify mechanisms to address such threats in a proportionate manner. [OHCHR Press Release: China Security Law 2015]
In his latest statement, the High Commissioner warned that a new law currently being developed by the Chinese government as part of a series of national security laws could further threaten the work of non-governmental organizations working in the country. [OHCHR Press Release: China 2016]
Growing Concern for the Deterioration of the Rights Situation in China
The High Commissioner's statements are the latest in a series of criticisms by UN representatives concerning the recent government crackdown on human rights lawyers and activists in China. A team of UN special procedures mandate holders released a statement soon after the National Security Law was implemented in July, outlining their dismay at the high number of law firm personnel, legal assistants, and human rights defenders arrested and detained for their legitimate human rights work. The independent experts urged China to provide all due process guarantees and to release all individuals being held without formal charges against them. [OHCHR Press Release: China 2015]
The special procedures stated:
In societies governed by the rule of law, lawyers advocate within the legal system on behalf of clients, even where their personal views may differ from the clients' views. Lawyers should never have to suffer prosecution or any other kind of sanctions or intimidation for discharging their professional duties.
[OHCHR Press Release: Detentions]
Nationwide Repression of Human Rights Defenders
Most of the 250 human rights lawyers, legal assistants, and activists that have been arrested nationwide have subsequently been released, but many are still being held and some report being subject to monitoring and harassment after their release. [Human Rights Watch]
For instance, between March and April 2015, police detained five women's rights activists for planning protests against sexual harassment on public transport on International Women's Day. All five report being subjected to monitoring and harassment after their release. [Human Rights Watch]
Government authorities interrogated some 280 lawyers between July and September of 2015. Of these, nearly 40, including Li Heping and Wang Yu, remain detained or forcibly disappeared and at risk of torture. The whereabouts of Li Heping, missing since 10 July, remain unknown. He is assumed to be in custody, though no formal charges have been brought against him. [Guardian] Wang Yu is one of the lawyers facing the possible penalty of between fifteen years and life in prison for charges of subversion. Her lawyer was repeatedly denied requests to see her, and Wang Yu remains in detention. [Reuters]
The Office of the High Commissioner expressed grave concern over the disappearance of five booksellers from Hong Kong known for selling books that criticize the Chinese government. One of the five, a British passport holder named Lee Bo, who went missing in December 2015, reappeared in January giving a "live confession" on China's government-controlled broadcaster CCTV. Another of the booksellers, a Swedish national named Gui Minhai, went missing from his home in Thailand last October before also reappearing on China's state television to deliver a "live confession" for crimes dating back to 2003. China has since confirmed the other disappeared booksellers are also being held and investigated. [OHCHR Press Release: China 2016]
Mr. Zeid condemned China's public broadcasting of confessions extracted during periods of incommunicado detention, stating they are a clear breach of the right to a fair trial. He also urged that the detained men be provided fair and transparent trials as well as access to communication with their families and representatives.
International Human Rights Legal Obligations
China is a signatory of, but not a party to, the International Covenant on Civil and Political Rights (ICCPR), which protects the rights to freedom of expression, assembly, and association under articles 19, 21, and 22, respectively, as well as the right to liberty under Article 9. As a signatory, China is under an obligation not to undermine the object and purpose of the ICCPR. Article 9(3) of the ICCPR places an obligation on State parties to bring those arrested or detained on criminal charges before a judge and to trial within a reasonable amount of time. The Working Group on Arbitrary Detention found in 2004 that those detained in China were held too long before appearing before a judge, in violation of international standards. See Working Group on Arbitrary Detention, Civil and Political Rights, Including the Questions of Torture and Detention: Mission to China, UN Doc E/CN.4/2005/6/Add.4, 29 December 2004, 3.
China has an obligation under international law not to engage in torture and to take action against those who do engage in torture. The prohibition of torture is a jus cogens norm and is, therefore, an obligation of all States regardless of the international legal instruments to which they are party. Additionally, under Article 15 of the Convention against Torture and Other Cruel, Inhuman, or Degrading Treatment or Punishment, which China has ratified, China has an obligation to ensure that a statement made as a result of the use of torture is not used as evidence against the person who made the statement.
Additional Information
For more information on the prohibition of torture; security and the rule of law; the freedom of thought, expression, and association; or the United Nations human rights bodies, including the Working Group on Arbitrary Detention and other UN special procedures, head to IJRC's Online Resource Hub. For additional details concerning China's international human rights obligations, visit the OHCHR webpage on China.